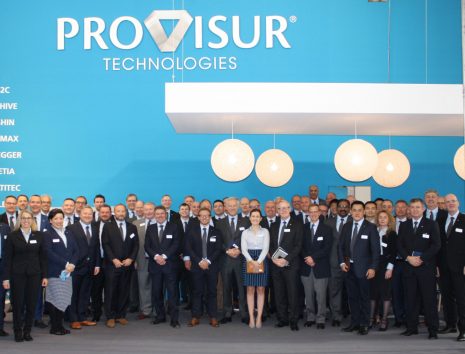 Provisur Technologies, Inc. made a splash at the 2019 IFFA event with a booth experience that not only featured more than 18 pieces of equipment representing the company's growing number of brands and capabilities, but also utilized virtual reality and augmented reality technology to showcase new innovations and demonstrate state-of-the- art technical support.
New innovations in the Provisur booth reflected not only the Chicago-based company's expertise in its customers' trade, but the benefits it now offers by blending the knowledge base of multiple meat and poultry processing technologies.
Acquiring Capabilities
Acquisitions since the last IFFA in 2016 have expanded Provisur's portfolio to deliver upstream and downstream solutions to processors seeking more integrated technologies before and after slicing. In 2017, Provisur acquired Lutetia, a French manufacturer of tumblers, massagers, injectors and defrosting equipment. Just a year later it acquired Switzerland-based Hoegger AG, an industry-leading maker of technology for press forming, separating, pasteurization and sous vide. While Hoegger is best recognized for its line of meat presses, it expanded Provisur's presence in European markets with additional production capacity, sales and support for the company's other equipment.
Just after the deal was announced, Mel Cohen, Provisur's president and CEO said, "The acquisition of Hoegger not only significantly strengthens our position in the slicing and portioning markets, but also complements our existing separation business and expands our cooking portfolio to include industrial sous vide cooking and pasteurization technologies." Likewise, when the Lutetia acquisition was announced, Cohen explained how the company was a natural fit for Provisur. "The portfolio of equipment is complementary to our existing offering and will allow us provide additional solutions and deeper value to our customers."
Indeed, the complementary impact of the two acquisitions were evident in the Provisur booth, where what once could have been considered islands of innovation were bridged and displayed as fully integrated processing lines designed to make processes more efficient using connectivity to monitor, measure and inform.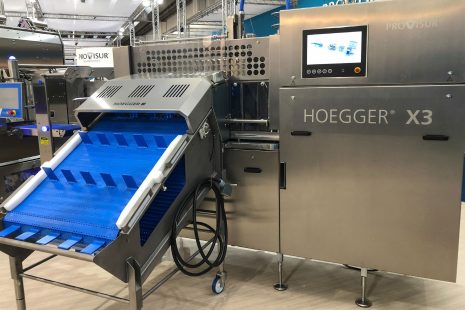 Pressing and More
An example of the integration resulting from the addition of Hoegger was the fresh meat slicing line displayed at Provisur's booth in Frankfurt. The display included the Hoegger X3 press that fed into the SCN380 scanner before moving into a FORMAX SX380 slicer and on to a SX-Loader.
The addition of the Hoegger technology, said Brian Sandberg, director of project management, "really embodies what that relationship was all about. Achieving front-to-back solutions has been achieved with key acquisitions through many years in addition to ongoing innovations and partnerships. "This has given us great opportunities to be able to meld the technologies together to offer a complete, integrated system as opposed to having individual pieces of machinery."
Besides offering consistent and reliable pressing the latest evolution of Hoegger's press is highlighted by the control platform and the way it communicates with the operator via an intuitive, user-friendly touchscreen. The technology links all the equipment and enables sharing of data and information up and down the line or to a customer's central control center. "It allows processors to automate processes and monitor operations much more closely," according to Sandberg.
Looking down the booth's fresh meat processing line, Hoegger's press was followed by the SCN380 scanning technology, which is capable of scanning not only single pork bellies, but also multiple pork loins or similar products simultaneously to produce a 3-D image. Product is then weighed to provide the vital product information to the Formax slicer to ensure maximum yield and consistent weight control with each cut based on shape, weight and density.
After slicing, product is transported by the SX- Loader to the processors' packaging equipment, which the autoloader can easily interface with. "When you can really tie all those things together so there is control, communication and optimization within that system, that's where technology goes to the next level," says Sandberg.
Empowering Information
Hoegger's significant recent advances include enhancements in its PLC and Control System. The large, user-friendly HMI inform and educate operators as well as provide information and troubleshooting support to the maintenance staff. The days of the lone "error" messages and indecipherable error codes are gone, according to Mike Collins, Provisur's product specialist focused on bacon and cured meats.
"With Provisur, we are scanning, pressing and slicing, he said. "We are connecting equipment together with a single cable, collecting necessary data each step of the way. This system can easily interface with processors' internal data collection software.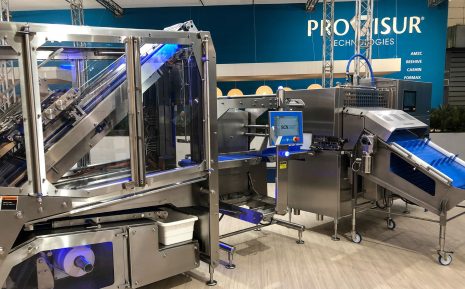 Smaller-Scale Slicing
Also unveiled at the booth was the SX330 slicer, regarded as the baby brother of the SX380 slicer which was displayed as part of the fresh-meat slicing line. While it features many of the same benefits as the SX380, it's a smaller capacity slicer that offers a compact footprint. The SX330 features unmatched versatility, flexibility and world-class sanitary design, including a strategically located electrical control cabinet that housed the control panel. Situated on the back of the machine versus the bottom, the control cabinet is more resistant to contaminants and washdown as well as being away from the product zone. It is intended to appeal to smaller processors, such as sandwich producers, small cheese-slicing operations, many of which are located around the world.
"This is a slicer that the smaller guy could start today, and it will meet their needs, but we have enough performance built in for tomorrow, including a blade speed of up to 1,500 RPM and a log length up to 1,000 mm. It is compatible for manual loading of product or automatic loading as part of a linear production line. The SX330 has the ability to adapt and you can add functionality as it's needed," said Sandberg.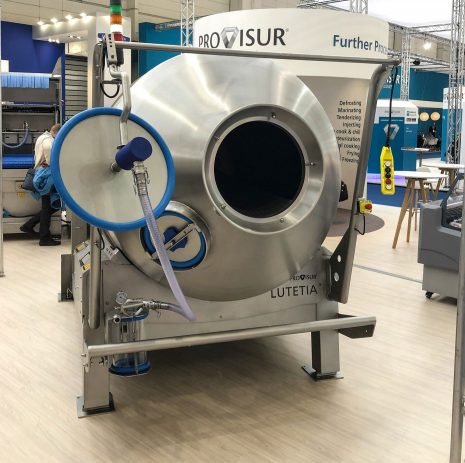 Thawing Opportunities
Technology displayed as a result of Provisur's other recent acquisition included defrosting and tumbling equipment from Lutetia, which included the T5 defrosting massager for tumbling frozen meat blocks or IQF products. Lutetia's tumbling massager utilizes vacuum- pressured, cold steam injection to gradually separate and transform the products from frozen using rotation, reducing thawing times of meat blocks from 72 hours to approximately 12 hours. IQF products can be defrosted in 1-4 hours with a capacity of up to 8,500 lbs. of product per tumbler.
Yields are enhanced by reducing purge and, according to technology expert, Frédéric Cecilia, return on investment on the equipment can be as little as six months. Besides defrosting meat, poultry and seafood frozen blocks, the massager can be used to cure, marinate and impart flavor in products ranging from ham to pork bellies to a variety of meat, seafood and even pasta and vegetables. The technology allows processors to use frozen meat to get fresh-meat quality, according to Cecilia. "It's not just a machine, it's a way to make money," he says.
For defrosting more delicate meats, including whole muscle, bone-in, ground and portioned products, Lutetia offers its proven cold convection chambers. Designed for products to be rolled into the chambers on trolleys, Lutetia's cold convection technology ensures optimum exchange of humidity in the chamber with the meat surface and uses circulation of air, water and steam around the meat to speed up the defrosting process. The combination of faster defrosting times, reducing surface drying and improved yields contributes to typical ROIs of under one year.
Provisur Technologies, Inc. is a leading global provider of precision engineered industrial food processing equipment and offers a broad range of equipment and integrated full-line solutions for processing beef, poultry, pork, fish and other food products.
For more information, call (708) 479-3500 or visit www.provisur.com